Wednesday, October 7, 4:00–4:50 pm PDT (Pacific Daylight Time)

| | |
| --- | --- |
| | Deepen Learning With PBL Virtual Field Trips |
Ideate
Introductory Workshop
Virtual field trips allow students to explore, discover and deliver unique projects through Netquests. Discover a model for creating exciting learning adventures that develop students skills in the virtual world while allowing them to collaborate with other students.
Outline
15 min: I will demonstrate how to brainstorm and structure virtual, cross-curricular field trips using content-based lesson plans in a school's curriculum.
15 min: I guide participants to actively follow the examples of two virtual field trips--that I designed with free Microsoft and Google Sites as resource templates--to begin creating their first virtual field trip.
10 min: I provide an online resource page with outline suggestions, tips, and rubrics for future use and reference. Participants will learn how to create virtual field trips to deepen students' critical thinking skills when accessing information from the virtual world and collaborating with other students on content-based projects.
10 min: Q&A. By the end of the workshop, participants will understand the importance of virtual field trips in emergency remote teaching and know how to create exciting online travel experiences for their students.
Audience:
Coaches, Curriculum/district specialists, Teachers
Topic:
Creative Learning in virtual & blended
Grade level:
6-8
Participant accounts, software and other materials:
Google Sites or https://templates.office.com/en-us/virtual-field-trip-tm89732948
ISTE Standards:
For Educators:
Designer

Use technology to create, adapt and personalize learning experiences that foster independent learning and accommodate learner differences and needs.

For Coaches:
Teaching, Learning and Assessments

Coach teachers in and model design and implementation of technology-enhanced learning experiences addressing content standards and student technology standards.

For Students:
Global Collaborator

Students use digital tools to connect with learners from a variety of backgrounds and cultures, engaging with them in ways that broaden mutual understanding and learning.

Standards addressed
Depending on how teachers set up their virtual field trip, "students build knowledge by actively exploring real-word issues and problems, developing ideas and theories and pursuing answers and solutions."
Digital tote resources
Presenters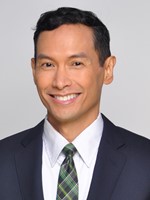 Frederic Lim
, Method Courses
Frederic Bernal Lim is a language acquisition specialist at Method Courses and a middle school English Language Learner (ELL) coordinator in Harlem, New York. He coaches teachers on adapting ELL strategies and loves gamified cross-curricular, problem-based learning netquests. Lim is a Fulbright grant recipient (Mexico and Peru) and was a U.S. State Department English language program specialist and fellow-select to Vietnam. He co-chairs the Dual Language School Improvement Grant (SIG) at New York State Teachers of English to Speakers of Other Languages (NYSTESOL), provides instructional consulting and facilitates workshops for teachers and trainers. He has inspired his ELLs in environmental stewardship in Plant Club and Fish Club for nearly 10 years.